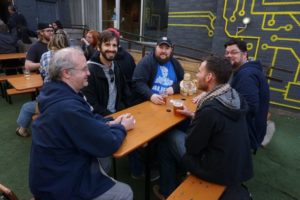 We spent an evening with the Halifax Makerspace organizers and users. Without a space for more than a year now, the community is still going on. The high rent on commercial spaces that allows the type of activity that occurs in a makerspace makes it difficult for an emerging organization to find a proper home. With them, we talked about the many groups that are initiating projects in the area.
A community woodworking shop has sprung out just couple blocks away from the Tool Library. There are also events around digital fabrication happening at the new Central Public Library but it seems that the space is still underused. The makers underlined the lack of a federation of the movement in Halifax; ways to better know each other, understand their motivations, their needs and their expertise.
We talked about the FabLabs Nation interstructure. How it could help to federate, exchange knowledge and better know their immediate ecosystem. This interstructure should be built by the people on the ground, those that know their surroundings and can contribute to the flow of information.